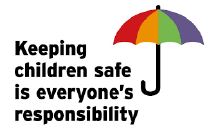 EVERYONE
• Everyone has a responsibility for keeping children safe (from
midwives, school teachers, doctors, social workers to nursery
nurses).
• Managers and the DSL (Designated Safeguarding Lead) have
to responsibility to manage and co-ordinate the safeguarding
processes.
• No single professional can have a full picture of a child's needs
and circumstances, so partnership working and sharing
information are vital.